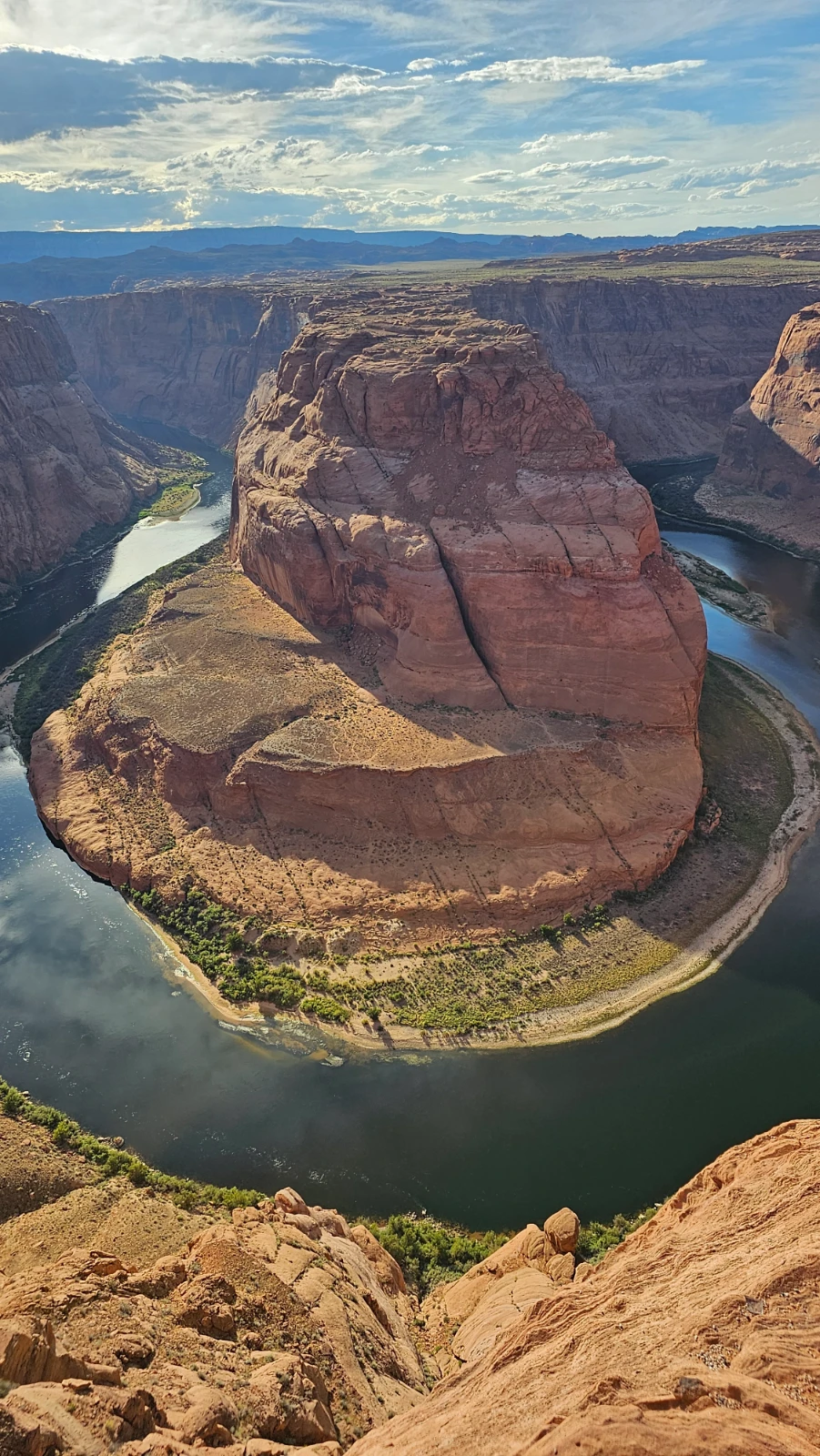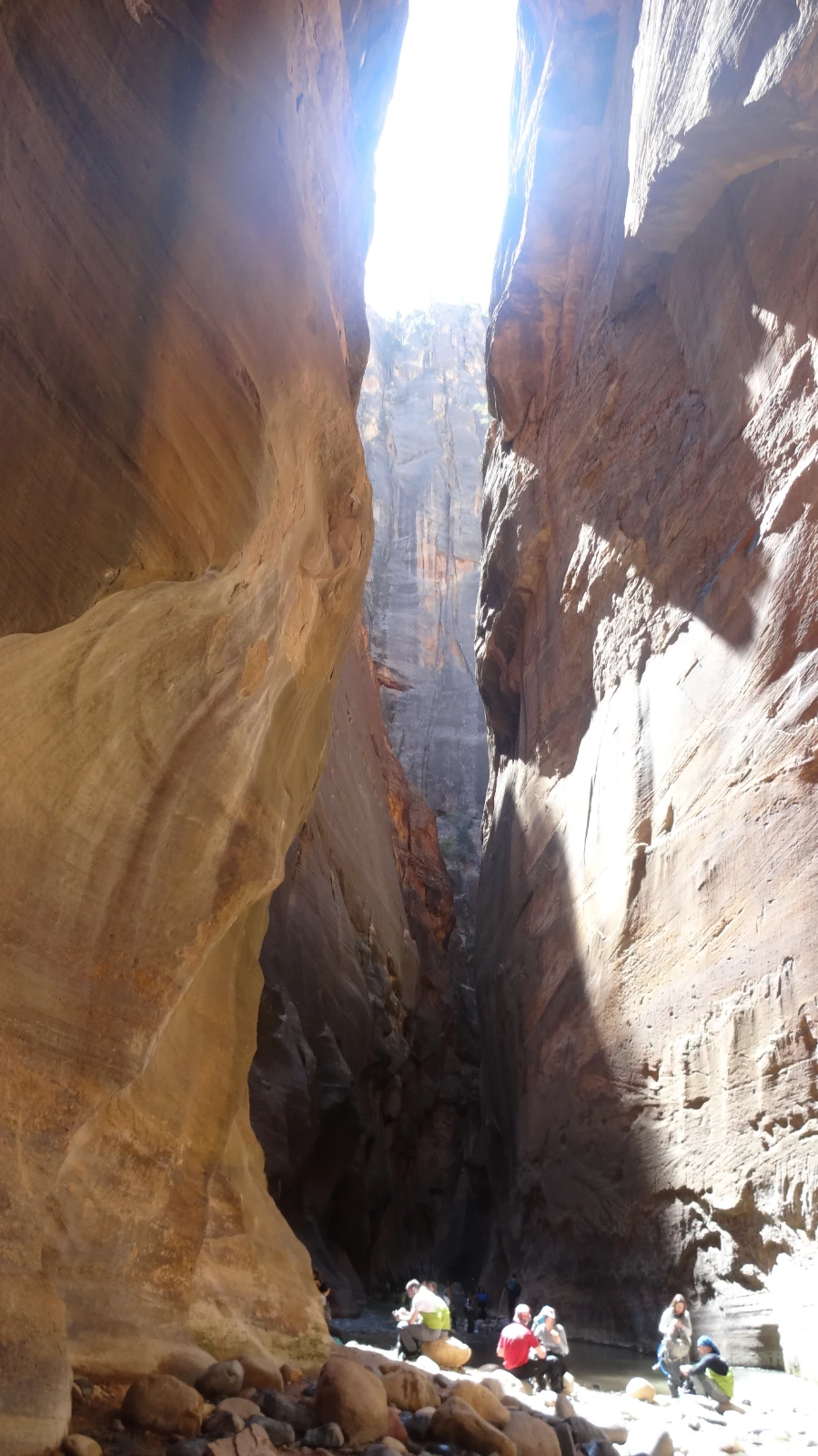 Zion National Park in Southern Utah is undoubtably one of the most beautiful of America's National Parks. And within Zion, one of the two most popular hikes is "The Narrows" (the other is Angels Landing), a river hike between canyon walls that reach over 1000 feet high. Hiking The Narrows is an awe-inspiring experience that should absolutely be on your must-do list.
However... on a recent road trip which included camping at Zion's Watchman Campground, I discovered another adventure, which, when all was said and done, I enjoyed even more than my Narrows hike. About 2½ hours east of Zion, near Page, Arizona is the Colorado River's famous Horseshoe Bend, another massive canyon upriver from the Grand Canyon. Thousands of tourists visit Horseshoe Bend every day, taking photos from the top of the canyon looking down. But only a few adventurers actually get down to the river and paddle their way through the Bend and beyond.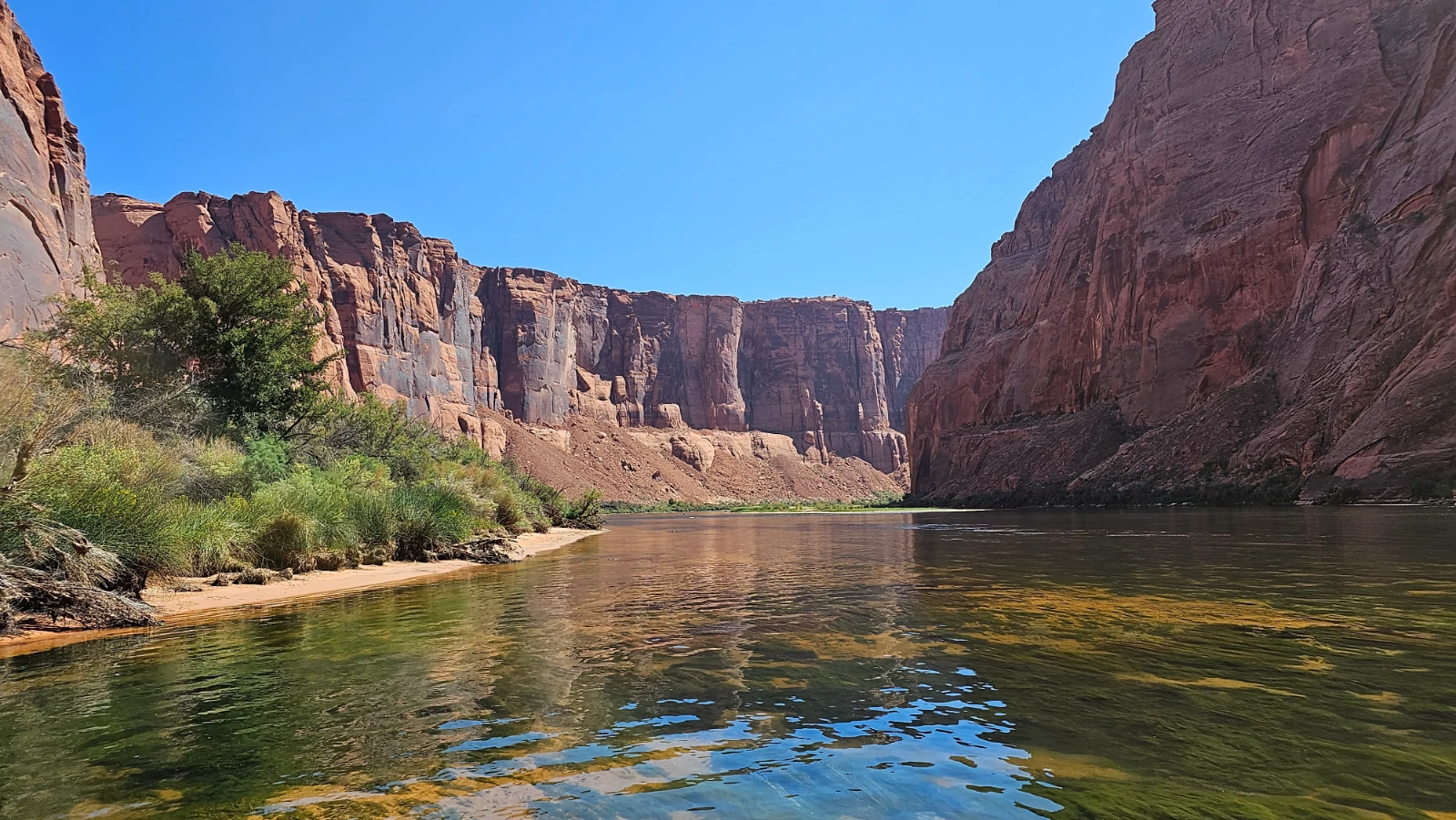 Horseshoe Bend itself lies about halfway between the massive Glen Canyon Dam and Lee's Ferry, a small boat ramp which is the launching point for Grand Canyon rafting trips. Government regulations don't allow any put-ins near the dam, however backhaul boats from Lee's Ferry will take you and your equipment upriver, 16 miles total (of course, you can get dropped off at any point along the way). From your starting point, you're entirely on your own to make it back to Lee's Ferry. You can drift leisurely (which is what most of the kayayers seem to do), or paddle enthusiatically and pick up speed. On the day I did this trip, in September 2023, I did not encounter any other paddleboarders, all other paddlers were in a kayak.
And after completing this amazing trip, spending an entire day on the water, I began to compare the two experiences -- hiking The Narrows vs paddling Horseshoe Bend. Don't get me wrong, these are both bucket list adventures, neither should be missed. But in the end, I think the paddling trip wins out over the Narrows hike, and here's why...
(note: we're discussing the bottom-up day hike of The Narrows here, from Temple of Sinawava shuttle stop to your stopping point and back, a maximum of 5 miles each way, to Big Springs. This is the hike that 99% of visitors take. A more adventurous Narrows hike is possible, 16 miles all downstream, but this requires a difficult-to-obtain wilderness permit, limited to 40 per day)
10. Safety. On the Colorado, you're far less likely to die from flooding. The Narrows is quite susceptible to flash flooding, which is extremely dangerous as there really is nowhere to go for safety. The canyon walls are huge and just vertical rock, and, as the name indicates, are very close together for much of the route, meaning that water levels rise very quickly and generate sufficient power to move large rocks and trees. Park rangers close the Narrows for safety when river flows are projected to rise above a certain level, but mild rain, even far away, can quickly convert an uneventful day to an extremely dangerous one. highly-dangerous one. In 2017, 2019 and 2023, the Narrows was closed for more than 2 full months in the spring because of high water. The Horseshoe Bend area is much wider and not nearly as vertical. A flash flood would be dangerous, but less likely to be tragic, as deaths in the Narrows are uncommon but not unheard of, the latest coming just last year. Less immediate but also dangerous, for the past few years the Virgin River water has been found to contain toxic cynobacteria, which can't be reliably filtered out, making its water undrinkable.
9. Bathrooms. Yes, you're walking though a river, but the Narrows is tight with few trees or hiding places, and the water is not very deep for most of the journey (much higher and it isn't safe), so being discreet is quite difficult. Along the Colorado river, if it's absolutely necessary, there are pit toilets about every 2 miles. Fortunately I didn't need to use one, as they are notoriously unpleasant, but in an emergency it's nice to know they're there.

8. Fishing. This section of the Colorado is filled with rainbow trout -- one tour operator claims "more trout-per-mile than virtually any other American river." On my trip, I saw numerous anglers enjoying themselves, mostly in motorized boats, however today's paddleboards can be fitted with fishing accessories so you can fish right from your board in between paddling.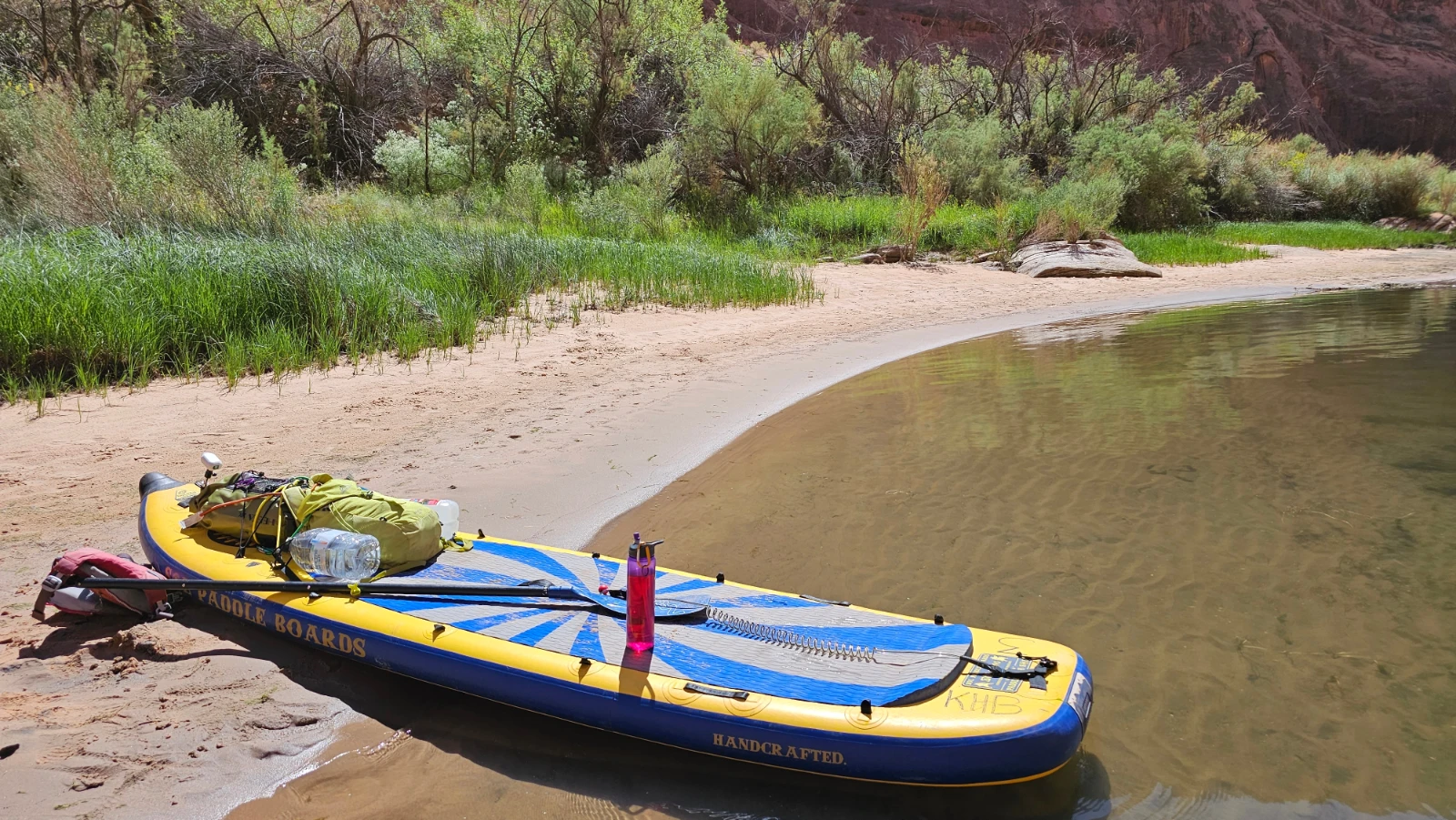 7. Beaches. There are plenty of small beaches and pull-off points along the Horseshoe Bend journey, great spots for a break or snack or just taking a swim. The most famous is Petroglyph Beach at Mile 10 (mile markers are measured upriver from Lee's Ferry). Because this site is inaccessible except from the river, visitation is limited and the petroglyphs have been preserved rather well. By contrast, the Narrows hike has no sandy beaches, instead, the best stopping points for a short rest or snack tend to be rock piles, and while some of them are colorful and quite beautiful, they aren't very comfortable or relaxing.
7a. Side hike. One of the beaches, about 4 miles from Lee's Ferry, leads directly to Waterhole Canyon, a short slot canyon hike (about 1 mile) that has been compared to Antelope Canyon nearby. You can only hike the very bottom, this is a popular spot for rappelling down from the rim (including a 300-foot drop!), but starting from the river you won't be able to ascend the walls. The rappellers who complete the full hike have to bring a boat, there is no other exit once reaching the river. The Narrows contains one side diversion, Orderville Canyon, but it breaks off right at the start of "Wall Street," the most spectacular part of the Narrows, so most people stay on the main route.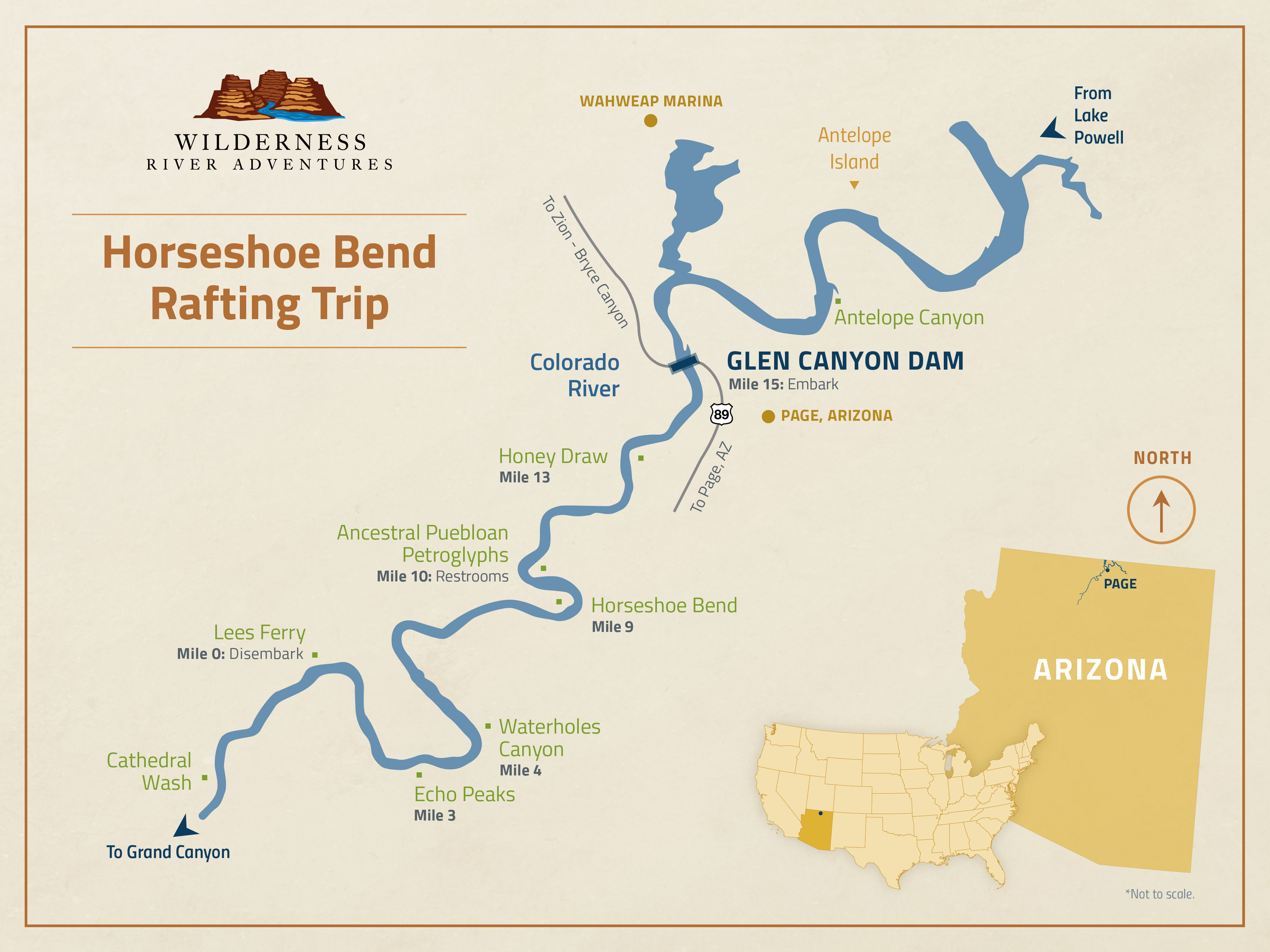 6. One-way. The Horseshoe Bend trip is not up-and-back like the Narrows. Technically it is, because you start and end in Lee's Ferry, but you're on a boat upriver and all your paddling time is one-way. The Narrows hike requires you to pick a spot to turn around and retrace your steps, which, let's face it, is not as much fun as continuing along a new trail. (It is possible to do the entire 16-mile Narrows top-down, however this is heavily restricted and requires a difficult-to-obtain wilderness permit) Further, even early risers will find it difficult to reach Big Springs, about 5 miles in and as far as you can hike from the bottom, and make it back out in time to catch a late shuttle out of the canyon. I was sure I'd hiked a long way but according to my GPS I just barely made it to mile 4 when I pivoted.
6a. Boat ride. As just mentioned, you start your day with a boat ride upriver. Who doesn't like a boat ride? And most likely, your captain will have some interesting stories, will point out some of the features along the way, and crack a few jokes. To be fair, getting to the Narrows trailhead requires a shuttle ride to the final stop (Temple of Sinawava), meaning you get to enjoy a spectacular ride through the entire Zion Canyon. But an open-air ride on a small pontoon boat beats looking way up out the windows of a crowded shuttle bus.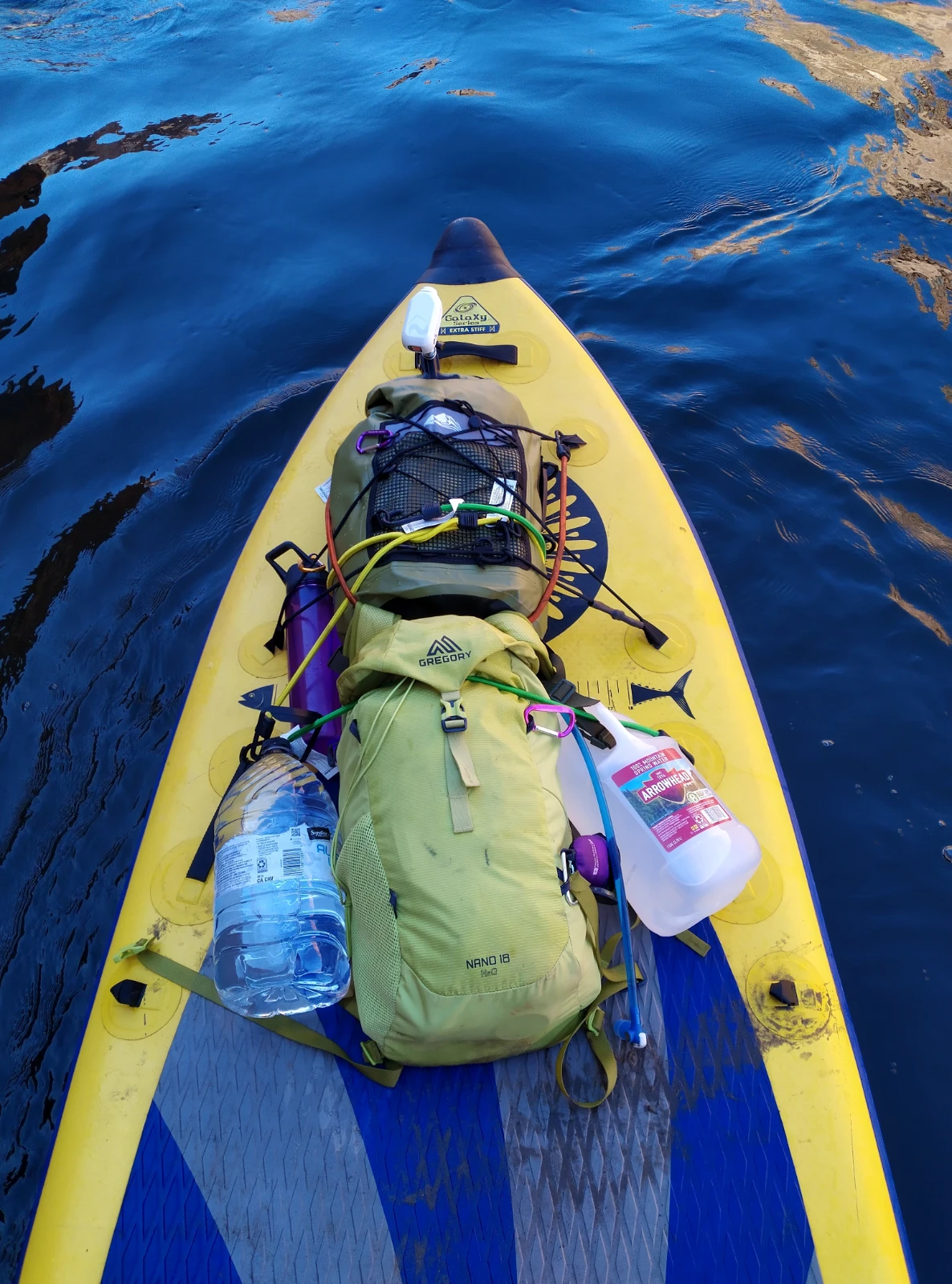 5. Camping. There are 5 campgrounds between Glen Canyon Dam and Lee's Ferry, one of which is right at the foot of Horseshoe Bend. These are accessible from the river only, as such, rarely too crowded, and no permits are required. You can easily turn your paddling trip into an overnight adventure and spend the night under the stars if you wish. The Narrows hike has no campsites downstream of Big Springs and staying overnight in this section of the river is illegal.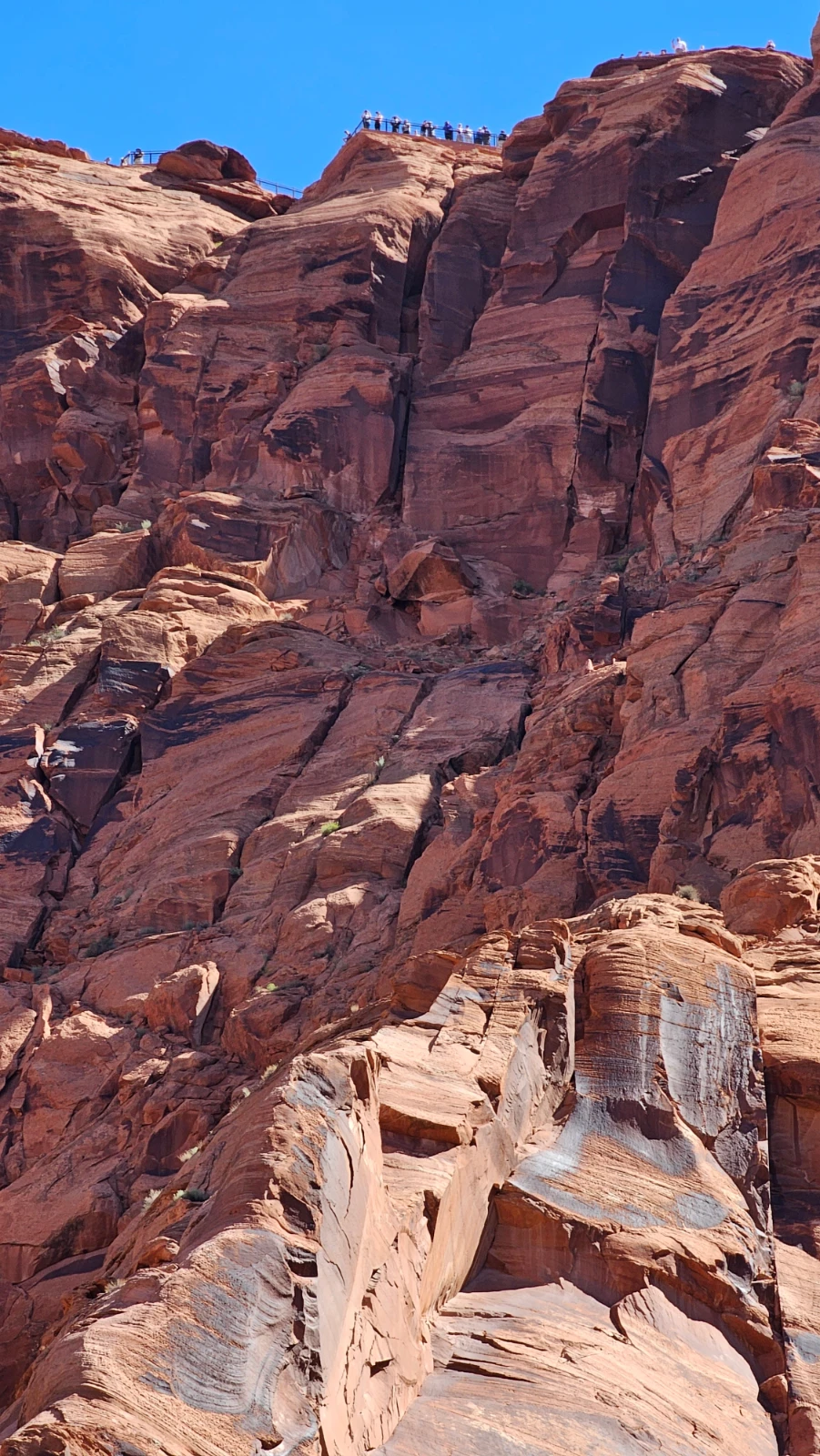 4. A mild feeling of superiority. While you are paddling your way downriver, especially on a SUP, you'll be passed a handful of times by motorized raft passengers on a day cruise. These aren't fellow paddlers on their backhaul boats, these are tourists with zero intention of getting in the water. And as they go by, propelled by a motor, they'll see you paddling. You'll know they know that you know that you're getting a great workout. I even got a brief ovation from a few kayakers when I caught up to them, impressed with my (rather amateur, to be honest) paddleboarding skills. And the same goes when passing by the tourists way above you at the Horseshoe Bend observation point. They'll be marveling at, and taking lots of pictures of, tiny paddlers way down below -- you! The Narrows hike has no boats, no observation points, everybody is relying on the same mode of transport, their legs.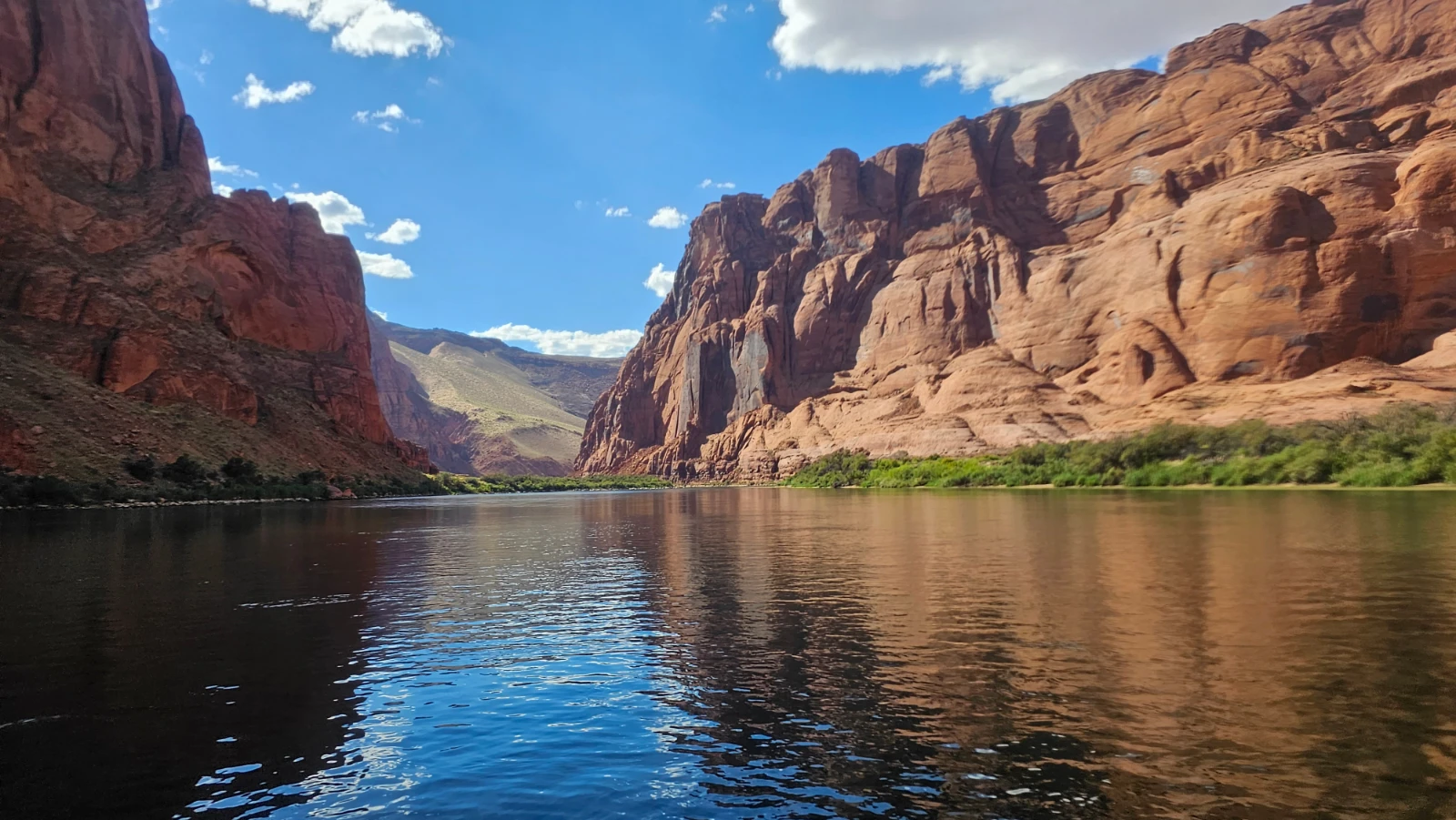 3. Scenery. This is a tough one, as the Narrows certainly is beautiful. But you're walking slowly and carefully in a river, and it's an out-and-back hike. You're likely to cover only about 4 miles of distinct terrain, and while it is awe-inspiring, it isn't terribly diverse. The dam (if you go the full distance upriver), the beaches, Horseshoe Bend itself, and the massive red rock walls lining the canyon offer more to look at and admire over the course of the day. Surely some people will disagree. But as an out-and-back hike, I found myself spending much of the return half of the Narrows trip simply walking straight ahead as opposed to looking up at sections of the canyon I'd traversed earlier in the day.
2. Floating. Speaking of mode of transport... let's face it, a hike is nice, but the feeling of cruising on top of the water on a paddleboard is exquisite. The riverbed within The Narrows is almost entirely smooth, round rocks, making footing difficult and slowing down your pace. It's very easy to slip or slide on them, which is why a hiking pole or stick is highly recommended, both for stability and for scouting your next step. This explains why a full-day hike in The Narrows may only be 7 or 8 miles in total. The Colorado River near Horseshoe Bend is almost all flatwater, which makes it very easy even for beginners, and provides a clean, easy, smooth float with very little rocking. I completed my entire trip without falling off my paddleboard. The feeling of floating, of controlling your movement with the paddle, it's unique and kind of addictive!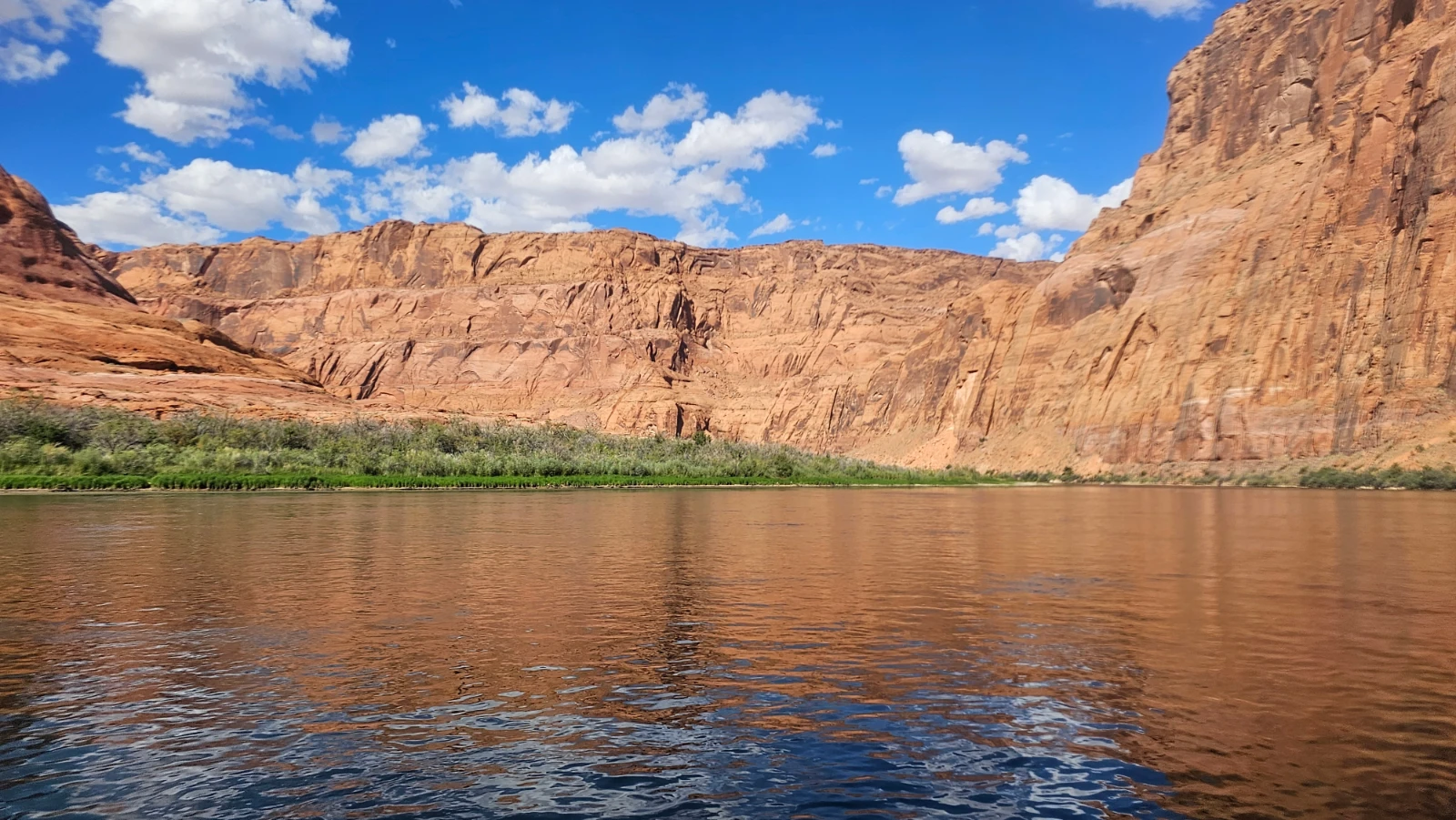 1. Solitude. The Narrows is busy and loud and crowded, thousands of people set off at the same starting point every day, with more arriving with every shuttle. Of course, it gets quieter a few miles in, but it is still quite rare to feel alone and to simply marvel in the surrounding beauty, and it gets busier again on the way out. Meanwhile there are stretches of the Colorado where absolutely nobody else is around, even a half-mile in each direction. It's just you, the river and the beautiful scenery, it feels at times like you're the only one to witness this stunning landscape.
Please... don't read this as if I didn't enjoy my Narrows hike or if I would not recommend it. It's absolutely amazing, a can't miss part of a Zion trip. And now that Angels Landing hikes are restricted via permit lottery (and the extremely challenging East Rim hike from Weeping Rock to Observation Point has been closed off for a few years), the Narrows is absolutely the best adventure that you can be certain you can do within Zion Canyon. A Horseshoe Bend paddling trip adds 2 days to a Zion or Moab trip, a day to get there and collect supplies and food, plus your day on the water – two if you plan to camp – and of course, not everybody has that time. Lee's Ferry is very remote, it is not a town, there are no stores anywhere nearby. Most people spend the night in Page, Arizona, which is only about 10 miles as-the-bird-flies, but is about an hour's drive. But if you can fit it into your trip, a paddleboarding trip through Horseshoe Bend is an adventure and a journey you will never forget!
Bonus reason. Dogs! Nope, can't take a dog along for a Narrows hike, it's not permitted by the Park Service, for good reason. But many people do take their dog on a paddleboard trip. Of course you need to use common sense and safety, and a personal floatation device for the dog is a must!